Share list
Fruit Recipes
Pear Crisp
Nectarine Freezer Jam
Small/Large Veggie Recipes
Tomato and Grilled Peach Pasta Salad
Spicy Potato, Bok Choy, and Shallot Hash
Corn Omelette
Large Veggie Recipes
Chili Roasted Vegetable Salad
Butternut Squash Risotto with Dandelion Greens
Harvest Pear Crisp
my recipes -
http://www.myrecipes.com/recipe/harvest-pear-crisp-0
6 cups pears, cored and cut lengthwise into 1/2-inch-thick slices (about 3 pounds)
1 tablespoon fresh lemon juice
1/3 cup granulated sugar
1 1/2 teaspoons ground cinnamon, divided
1/3 cup all-purpose flour
1/2 cup packed brown sugar
3 tablespoons chilled butter, cut into small pieces
1/4 cup coarsely chopped walnuts
Preheat oven to 375°.

Combine pears and lemon juice in a 2-quart baking dish; toss gently to coat. Combine granulated sugar, cornstarch, and 1 teaspoon cinnamon; stir with a whisk. Add cornstarch mixture to pear mixture; toss well to coat.

Lightly spoon flour into a dry measuring cup; level with a knife. Place flour, 1/2 teaspoon cinnamon, brown sugar, and salt in a food processor; pulse 2 times or until combined. Add chilled butter; pulse 6 times or until mixture resembles coarse meal. Add oats and walnuts; pulse 2 times. Sprinkle flour mixture evenly over pear mixture.

Bake at 375° for 40 minutes or until pears are tender and topping is golden brown. Cool 20 minutes on a wire rack; serve warm or at room temperature.
2¼ cups chopped, fresh unpeeled nectarines, stones removed (about 2 pounds)
2 tablespoons fresh lemon juice
1 box powdered fruit pectin
Measure sugar into a large microwave-safe bowl. Add fruit and lemon juice to sugar and stir thoroughly. Add fruit.

Place bowl in microwave for 3 minutes. Stir well for 1 minute. Take a tiny taste. If fruit mixture still has a grainy consistency, return to microwave for another 2 minutes, then stir well.

Combine water and powdered pectin in a small saucepan. Bring to a boil over high heat and boil for one minute, stirring constantly.

Stir pectin mixture into fruit mixture. Stir for 3 minutes.

Ladle into clean jars, filling to within ½ inch of the top. Cover and let stand at room temperature for 24 hours, then store in freezer for up to a year or in the refrigerator for 3-4 weeks
Smoky Heirloom Tomato and Grilled Peach Pasta Salad with Basil Vinaigrette
1 pound whole wheat pasta, like ziti or rigatoni
2 peaches, sliced in half and pits removed
4 medium heirloom tomatoes, cut into wedges or chunks (or cherry tomatoes cut in half)
4 ounces feta cheese, crumbled
4 slices thick-cut bacon, cooked and crumbled
- 1/2 cup fresh basil leaves
- 2 tablespoons red wine vinegar
Bring water to a boil and prepare pasta according to directions. While pasta is cooking, preheat the grill to medium-high. Brush the corn and peach halves with the olive oil, then place them directly on the grates. Grill the peaches for 1 to 2 minutes, until grill marks appears, and rotate the corn until the kernels are golden, about 5 to 6 minutes. Remove the corn and peaches and sprinkle them and the tomatoes with salt and pepper. Cut the corn off of the cob.

Make the vinaigrette by adding the basil and vinegar to a food processor and blending until the basil is in tiny pieces and the mixture is combined. Stream in the olive oil and puree until combined. Season with salt and pepper and blend to mix.

Add the pasta to a large bowl and pour the vinaigrette on top. Mix thoroughly until the pasta is coated, then stir in the tomatoes, peaches and corn. Add in the feta, onions and bacon, mixing until combined. Add a few basil leaves on top if desired and serve.
Spicy Potato, Bok Choy, and Shallot Hash
Serious Eats -
http://www.seriouseats.com/recipes/2012/03/spicy-potato-bok-choy-and-shallot-hash-hangover-helper-recipe.html
1/2 pound (about 2 medium) russet potatoes, peeled, split into quarter lengthwise, and cut into 1/4-inch slices
2 tablespoons plus 1 teaspoon vegetable oil, divided
1 large shallot, thinly sliced (about 1/2 cup)
1/2 pound baby bok choy, rinsed, dried, trimmed, and roughly chopped into 1/2-inch pieces(see note above)
1 finely sliced serrano or Thai bird chili
1 teaspoon hot sauce (such as Frank's RedHot), or more to taste
Kosher salt and freshly ground black pepper
Hot sauce, Sambal Oelek, or hot pepper relish for serving.

Place potatoes in as thin a layer as possible on a microwave-safe plate. Cover with paper towel and microwave on high power until heated through but still slightly undercooked, about 2 1/2 minutes.

Heat 2 tablespoons oil in a 10-inch cast iron or non-stick skillet over high heat until lightly smoking. Add potatoes and cook, stirring and tossing occasionally, until well browned on about half of all surfaces, about 4 minutes. Reduce heat if smoking heavily.

Add shallot and bok choy. Continue to cook, tossing and stirring occasionally, until vegetables are all well browned and charred in spots, about 4 minutes longer. Add sliced chili and hot sauce. Cook, stirring constantly for 30 seconds. Season to taste with salt and pepper. Transfer hash to a warm serving platter and keep warm

Wipe out skillet and add remaining teaspoon oil. Heat over medium heat until shimmering. Add eggs and cook until desired level of doneness is reached. Season with salt and pepper. Place eggs on top of has and serve immediately with hot sauce, Sambal Oelek, or hot pepper relish.
Corn Omelette
Chicago Tribune -
http://articles.chicagotribune.com/2009-08-26/entertainment/0908240074_1_omelet-fresh-corn-sea-salt
1 ear of corn, raw or grilled, kernels cut off
4 to 6 basil leaves, rolled up, cut crosswise into thin slices
1 ounce grated smoked or regular mozzarella cheese
1 tablespoon unsalted butter
Place the corn and 2 tablespoons of the water in a small nonstick skillet; cook over medium heat until heated through, 1-2 minutes.

Meanwhile, combine the eggs and remaining 1 tablespoon of the water in a medium bowl; beat lightly. Drain the water from the corn; add the corn to the eggs. Add basil, salt and pepper to taste. Add the cheese; stir to combine.

Wipe out the skillet; add the butter. Melt until foamy over medium-high heat. Add the corn and egg mixture; stir once or twice; reduce the heat to medium-low. Cook until pale golden on the bottom, 3-4 minutes. Cover with a plate (the one you'll use to eat the omelet); carefully invert the omelet onto the plate; slide omelet back into the skillet. Cook just until the omelet has set, 1-2 minutes. Transfer to the plate.
Chili-Roasted Vegetable Salad
1 acorn squash, cut in half, seeds scooped out, and sliced into half moons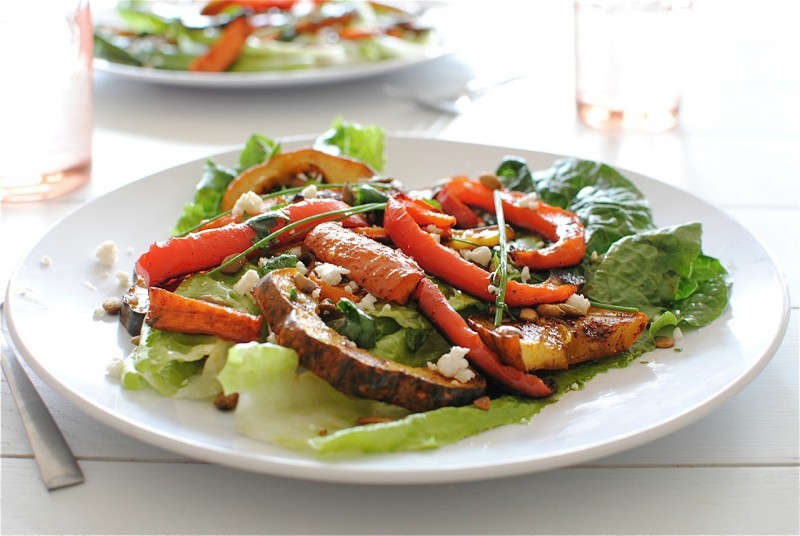 1/2 red bell pepper, thinly sliced
5 Tbs. extra-virgin olive oil, divided
1/2 cup freshly chopped cilantro leaves
1 large romaine heart, rinsed and leaves separated
2 Tbs. pepitas, lightly toasted
1/2 cup crumbled cotija cheese
coarse salt and freshly ground pepper
Preheat oven to 400.

On a rimmed baking sheet, toss the acorn squash, carrots and red bell pepper slices with 2 Tbs. olive oil. Sprinkle with chili powder and a good pinch of salt and pepper. Roast for 20 to 25 minutes, until all the veggies are soft and roasted and happy.

In the meantime, whisk together the lime juice, cilantro, honey, remaining 3 Tbs. oil, and a small pinch of salt and pepper. Stick your finger in that. Yes.

Now just arrange the romaine leaves on two dinner plates, and top with the roasted vegetables. Sprinkle the toasted pepitas and cotija cheese over it. Now just drizzle the salad with the cilantro-lime dressing.
Spiced Butternut Squash Risotto with Dandelion Greens
2 cups arborio rice
3 T butter
3 shallots diced
2 cups butternut squash, diced (seeds cleaned and reserved)
1 cup savignon blanc
5 cups chicken stock
1/2 cup grated parmesan cheese
salt and pepper, muchi curry powder
Olive oil
1/2 bunch dandelion greens
3 strips bacon diced
Sweat shallots with butter and 1 cup of diced butternut squash in a large pot. Add 2 cups risotto rice and stir until translucent over medium heat (about 4 minutes). Deglaze with wine and stir until liquid is absorbed. Add chicken stock little by little stirring constantly, about 30 minutes.
Roast remaining butternut squash at 400˚F with a little olive oil, salt, ground pepper, and sprinkle of muchi curry powder until soft and caramelized. Toast squash seeds at same heat with the same seasoning until crunchy. Set aside.
Sauté diced bacon until crispy and remove to a plate lined with a paper towel. Sauté dandelion greens in bacon grease. Add a little water if necessary to help soften. Reserve. Once risotto is soft, creamy, and al dente (but not too al dente) stir in parmesan and then dandelion greens.
Serve risotto with spiced butternut squash on top with bacon bits and toasted seeds.