See share list here
Meatless Monday
Red Quinoa Bowl with Swiss Chard and Poached Egg
1/2 cup red quinoa, rinsed and cooked according to package directions
2 teaspoons distilled white vinegar
About 3 tbsp. extra-virgin olive oil, divided
1/2 onion, roughly chopped
1 large carrot, cut into thick coins
1 bunch Swiss chard, stems chopped and leaves torn, divided
1 large garlic clove, minced
1 portabella mushroom, dark gills removed, then halved and cut into 1/2-in.-wide slices
1 teaspoon kosher salt
2 large eggs
Pepper
2 tablespoons chopped chives

1. Bring a medium saucepan with about 2 in. of water and the vinegar to a simmer; keep hot, covered.
2. Heat 1 tbsp. oil in a frying pan over medium-high heat. Cook onion, carrot, and chard stems, stirring often, until softened, about 10 minutes. Add garlic and mushroom; cook until mushroom softens, adding oil to pan if needed, about 2 minutes. Put chard leaves on top of vegetables, add 2 tbsp. water and the salt, and cook, covered, until leaves wilt, about 2 minutes. Stir in quinoa. Divide mixture between 2 bowls.
3. Crack an egg into a small dish. Using a slotted spoon, swirl simmering water in a circle, then slowly pour in egg. Cook until white firms and yolk is done the way you like (1 minute for softly set).
4. Lift egg out of water to top one of the quinoa bowls; repeat with second egg. Drizzle each bowl with 1 tbsp. oil and sprinkle with pepper and chives.
Buttery Braised Leeks with Crispy Panko Topping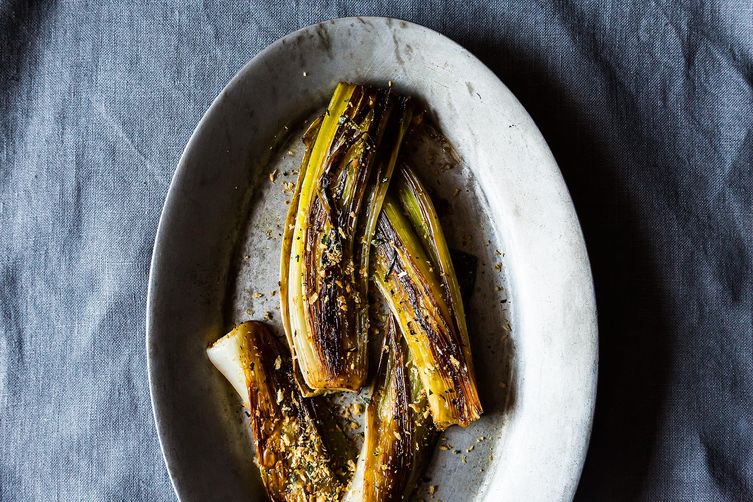 Crispy Panko Topping
1/4 cup panko
1 tablespoon parsley, finely chopped, leaves only
2 tablespoons grated Parmesan
1 pinch salt and pepper to taste
Combine panko with parsley, Parmesan, and salt and pepper in a small dish. In a dry skillet over medium heat, toast this mixture until golden brown. Make sure that you taste the panko mixture for correct seasonings to ensure that the dish is seasoned all the way through.
2 leeks, trimmed, cleaned, and halved lengthwise
1 tablespoon of olive oil
1 tablespoon of butter
Juice of 1/2 a lemon
Salt and pepper to taste
Melt the butter and olive oil over a medium-high flame in a large sauté pan. Once the oil and butter are hot, place the leeks cut side down into the pan. Let the leeks brown in the pan for 4 to 5 minutes. Carefully flip the leeks over and turn the heat on low. Cover and let the leeks braise for about 25 to 30 minutes or until the leeks are soft all the way through. Take the leeks off the heat and squirt the lemon juice over the braised leeks and add salt and pepper to taste. Sprinkle with the panko topping.
Taco Tuesday
Asian Chicken Tacos with Peanut Sauce & Bok Choy
8 corn tortillas
4 chicken breasts
1/4 cup olive oil
1/4 cup soy sauce
3 tablespoons sugar
1/4 cup honey
1-1/2 cups maple syrup
2 teaspoons sesame oil
3 tablespoons hoisin sauce
1/4 cup peanut butter
1 tablespoon fresh lemon juice
2 bunches bok choy, root cut off so stalks separate
1 cup peanuts, chopped
In a medium sized sauce pan, mix the soy sauce, sugar, honey, maple syrup, sesame oil and hoisin. Bring to a boil. Remove from heat and add the peanut butter and lemon juice. Return to low heat and let it cook for several minutes, until it thickens and coats the back of a spoon. Set aside.
Slice the chicken into quarter inch strips. Heat the olive oil in a large frying pan. Sauté the chicken strips for several minutes on each side, until slightly browned and cooked through. If you sautéed the chicken in batches, return it all to the pan and add the sauce. Turn the heat off and stir to coat the chicken with the sauce.
Place 4 tortillas between paper towels and microwave them for 40 seconds. Repeat with the other tortillas. Keep warm at the table.
To build your tacos, place the chicken in first. Sprinkle with chopped peanuts. Top with the bok choy and crunch away! Yum!
PB & Fruity Says 'Let Us Rap'
Community Table via Rachel G. -
http://communitytable.com/27389/rachelg/pb-fruity-says-let-us-rap
½ cup chopped cooked chicken breast
2 Tbsp extra crunchy peanut butter
3 Tbsp chopped semi-sweet apple
2 Tbsp chopped black or red grapes
1 Tbsp lite mayonnaise
2 tsp honey
lettuce
Chop chicken meat and fruit, mix in bowl. Mix in peanut butter, mayonnaise, and honey.
Mix in peanut butter, mayonnaise, and honey.
Spoon into open lettuce leaf, roll, and serve.
Wellness Wednesday
Chilled Asparagus Salad
6 quarts water
Kosher salt
2 tablespoons granulated sugar
32 stalks small to medium-size green asparagus, washed and ends trimmed
2 lemons, juiced
2 tablespoons white wine vinegar
1 teaspoon honey
2 tablespoons smooth Dijon mustard
4 tablespoons olive oil
Directions
Bring the water to a boil in a large pot over medium heat. Add salt until it tastes like mild seawater then add the sugar.
Prepare an ice bath by filling a bowl, large enough to hold the asparagus, with cold water. Add some ice cubes. Plunge the asparagus into the ice bath before cooking to help bring any limp stalks back to life. Remove from the ice bath, plunge them into the boiling water and allow them to cook, 2 to 3 minutes. Use a slotted spoon to remove them from the water, transferring them immediately to the same ice bath. Allow them to sit in the ice bath for a few minutes, swirling them gently in the water to assure they are all cooling quickly in the cold water.
Remove the asparagus and dry well. Place on a large plate or platter lined with a kitchen towel and refrigerate.
In a medium bowl, combine the lemon juice, white wine vinegar, honey and mustard. Stir to blend. Whisk in the olive oil in an even, steady stream. When all of the oil has been integrated, taste and adjust the seasoning, if needed.
When ready to serve, remove the kitchen towel from the asparagus and simply toss the asparagus in the dressing to coat them completely. Arrange the stalks on plates and serve.
Thirsty Thursday
Chocolate Mint Green Smoothie
oh my veggies -
http://ohmyveggies.com/how-to-build-a-perfect-smoothie-a-chocolate-mint-green-smoothie-recipe
2 heaping cups organic spinach
1 cup unsweetened almond milk (or your milk of choice)
1 cup filtered water (more or less, for desired thickness)
½ avocado, pit and skin removed
1 scoop chocolate protein powder of choice (optional)
¼ cup fresh mint or 1 drop of mint extract
1 tablespoon dark chocolate chips or cacao nibs
Sweetened of choice to taste (optional)
Ice (optional)
Add all of the ingredients to a high-speed blender and blend until thick and smooth.
Fruit Friday
German Pancakes with Apples
love & olive oil -
http://www.loveandoliveoil.com/2008/11/german-apple-pancakes.html
1 cup milk
1 cup flour
6 eggs
1/4 teaspoon salt
6 tablespoons butter
1-2 apples, of your favorite variety, peeled, cored, and thinly sliced
1 tablespoon sugar
1 teaspoon ground cinnamon
1 teaspoon fresh lemon juice
2 tablespoons brown sugar
Combine milk, flour, eggs, and salt in medium bowl and mix until just combined.
Combine thinly sliced apples in bowl and toss with sugar, 1/2 teaspoon cinnamon, and lemon juice. In a separate bowl, combine brown sugar and remaining cinnamon and set aside.
Move oven rack down to bottom 1/3 of oven, lower if you have a small oven. Place butter in a 13x9 inch pan sprayed with cooking spray, put in oven, and preheat to 450 degrees. When butter is hot and sizzling, remove from oven and spread a thin layer of apple slices in bottom of pan (should use about 3/4 of the apples). Pour in batter, and arrange remaining apples sparingly on top. Sprinkle with brown sugar mixture.
Return pan to oven and bake for 25 minutes, or until golden brown and fluffy.
Slice and serve hot with maple syrup and powdered sugar.
Slaw Saturday
Tangy Apple Coleslaw

For the dressing, whisk together the following in a bowl:
1/2 cup sour cream
1/3 cup mayonnaise
1/3 cup apple cider vinegar
3 tablespoons sugar
3 tablespoons honey
1 teaspoon freshly ground black pepper
1/2 teaspoon mustard powder
1/2 teaspoon poppy seeds
For the Slaw:
1 large head green cabbage (about 3 1/2 pounds), finely shredded on a mandoline or by hand
1 large carrot, peeled and grated on the large holes of a box grater
2 Granny Smith apples, peeled, cored, and grated on the large holes of a box grater
2/3 cup sugar
1/3 cup kosher salt
Combine cabbage, carrot, and apple in a large bowl. Sprinkle with sugar and salt and toss to combine. Let stand five minutes, then transfer to a large colander and rinse thoroughly under cold running water
.Transfer vegetables to a salad spinner and spin dry. Alternatively, transfer to a large rimmed baking sheet lined with a triple layer of paper towels or a clean kitchen towel and blot mixture dry with more towels. Return to large bowl
Pour dressing over vegetables and toss to coat. Adjust seasoning to taste with salt, pepper, and/or sugar
.
Potato Coleslaw
Rachel Ray -
http://www.rachaelraymag.com/recipe/potato-coleslaw

1/4 cup mayonnaise
1/4 cup sour cream
2 tablespoons lemon juice
1 tablespoon whole-grain mustard
1/2 Serrano chile, minced
2 teaspoons honey
1 pound baby red potatoes, quartered and boiled
2 cups coleslaw
2 scallions, white and green parts sliced
In bowl, whisk first 6 ingredients. Add potatoes, slaw and scallion whites; season. Top with scallion greens.


Shrimp Sunday
Curried Shrimp and Spinach
Paleo Leap -
http://paleoleap.com/curried-shrimps-and-spinach
2 lb shrimp, peeled and deveined
2 Tbs ghee, butter, or coconut oil
1 onion, chopped
2 tsp curry powder
2 tsp tomato paste
1/2 chicken stock
1 cup full-fat coconut milk
2 tightly packed cups shredded spinach
sea salt and ground pepper to taste
Heat a large skillet over medium-low heat and cook the onion in the ghee until it begins to soften, about 3 minutes. Season to taste with salt and pepper. Stir in curry powder and cook for 1 minute.
Place mixture in a blender or food processor. Add tomato paste, chicken stock, and coconut milk; blend until smooth.
Pour the mixture back into the skillet and bring to a simmer. Add shrimp and spinach and cook, covered, for about 5 minutes, until the shrimp is just cooked. And enjoy!
Asparagus-Spinach Pesto Pasta with Blackened Shrimp
Cook the pasta in a large pot of salted water al dente according to package instructions.
Meanwhile, add the shrimp to a small bowl and toss with the blackening powder until covered. Heat olive oil in a large saute pan over medium heat. Add in the shrimp, and saute for 5 minutes, turning occasionally, until the shrimp are cooked through and pink and no longer translucent. Turn off the heat, and transfer shrimp to a separate plate and set aside.
When the pasta is al dente, reserve 1/2 cup of the pasta water then drain the pasta. Return the pasta either to the stockpot where it was cooked, or to the saute pan (with the stove heat turned off). Add the pesto to the pasta, and toss until evenly coated, adding in a bit of the reserved pasta water if needed to thin the pasta. Then stir in the shrimp and pine nuts, and serve immediately sprinkled with some extra Parmesan cheese.
Asparagus-Spinach Pesto:
1 bunch asparagus spears (about 1 lb), ends trimmed and cut into 2-inch pieces
3 cups baby spinach leaves, loosely packed
4 cloves garlic, peeled
1/2 cup freshly grated Parmesan cheese, plus more for topping
1/4 cup toasted pine nuts
2 tablespoons lemon juice
1/2 teaspoon salt
1/2 cup extra-virgin olive oil
Fill a separate medium saucepan or stockpot with water, and bring to a boil over high heat. Add the asparagus spears and cook for 2-3 minutes, until the spears are bright green and barely tender. Remove the asparagus with a slotted spoon and transfer to a bowl filled with ice water to stop the cooking.
Add the asparagus, spinach, garlic, Parmesan, pine nuts, lemon juice and salt to the bowl of a food processor fitted with the blade attachment. Process until combined. Then, with the motor running, drizzle in the olive oil until it is incorporated. As mentioned above, if the pesto seems too thick, add in a bit of pasta water to thin it out.