Recipes that compliment the share items for the first week of June:
Roasted Strawberry Buttermilk Milkshakes
Summer Vegetable Tian
Easy Udon Soup with Kale & Chard
Cold Radish-Cucumber Soup
Radishes with Creamy Ricotta
Spicy Stir-Fried Radish Greens and/or Swiss Chard
Parmesan-Zucchini Chips
M Cafe's Chickpea and Dandelion Salad
Baked Pasta with Broccoli Rabe and Pasta
Roasted Strawberry Buttermilk Milkshakes
The Hungry Hounds -
http://www.thehungryhounds.com/blog/2015/3/17/roasted-strawberry-buttermilk-milkshakes
2 lb strawberries, hulled and cut in half
1/4 cup buttermilk
1 tsp vanilla
2 cups vanilla ice cream
2 Tbs sugar (optional)
Heat oven to 400 degrees. Roast strawberries for 25 minutes. Cool.
Puree the cooled strawberries, buttermilk, vanilla, and ice cream together until smooth and creamy. Taste and add sugar if desired. Serve immediately with a dollop of whipped cream.
Summer Vegetable Tian
Budget Bytes -
http://www.budgetbytes.com/2011/08/summer-vegetable-tian
1 Tbsp olive oil
1 medium yellow onion
1 tsp minced garlic
1 medium zucchini
1 medium yellow squash
1 medium potato
1 medium tomato
1 tsp dried thyme
to taste salt & pepper
1 cup shredded Italian cheese
Preheat the oven to 400 degrees. Finely dice the onion and mince the garlic. Saute both in a skillet with olive oil until softened (about five minutes).
While the onion and garlic are sauteing, thinly slice the rest of the vegetables.
Spray the inside of an 8×8 square or round baking dish with non-stick spray. Spread the softened onion and garlic in the bottom of the dish. Place the thinly sliced vegetables in the baking dish vertically, in an alternating pattern. Sprinkle generously with salt, pepper, and thyme.
Cover the dish with foil and bake for 30 minutes. Remove the foil, top with cheese and bake for another 15-20 minutes or until the cheese is golden brown.
Easy Udon Soup with Kale and Chard
8 oz dry Udon Noodles
½ bunch of kale
½ bunch of chard
3-5 baby carrots
4 cups of water
soup bouillon base of choice
1/8 teaspoon red chili flakes (or substitute a store-bought Asian chili sauce)
salt and pepper to taste
Cook the Udon noodles according to the directions on the package. Drain, rinse and set aside.

Heat 4 cups of water to a boil.

Tear or chop the kale and chard into bite size pieces. Cut the carrots into half-inch rounds.

Add the soup base, the veggies, and chili.

Cook down until the carrots are tender and the greens have wilted.

Season with cracked pepper and salt if necessary (the soup stock may be salty enough already.)

Add the cooked Udon back into the soup, and serve piping hot.
Shalotta Mom's Pickled Lettuce Condimaent
Can use in place of pickles on sandwiches, in tacos instead of cabbage slaw, or just as an accompaniment to to meat and fish dishes.
2
large bunches Green Leaf, washed and dried
4
large garlic cloves, finely chopped
1
medium bunch fresh dill, thick stems removed and fronds roughly chopped
½
cup dried cranberries, tart cherries, or raisins
½
cup red wine or apple cider vinegar
½
teaspoon red pepper flakes or your favorite hot chile pepper, finely diced
Trim the ends of the green leaf lettuce and chop it in about ¾-inch wide ribbons. If using iceberg lettuce, core it, slice in half and then cut in about ¾-inch wide ribbons. Transfer to a very large bowl and toss with garlic, dill, and dried berries.
In a measuring cup combine water, vinegar, sugar, salt, and red pepper flakes. Stir until sugar and salt are completely dissolved. Let cool to room temperature and then pour over the lettuce.
Cover the bowl with a shallow plate that is a little smaller in diameter and place something heavy on top to press down the lettuce mixture. Let stand for about 2 hours, then pack tightly into a quart container and pour the pickling liquid over the top. Cover and chill until ready to use. It will keep fresh in the refrigerator for more than 1 week.
Cold Radish-Cucumber Soup
Food52 -
http://food52.com/recipes/17605-cold-radish-cuke-soup
1 cucumber, peeled, seeded, and chopped into 1/2-inch pieces (about 2 cups)
1 bunch red radishes, trimmed and quartered (about 1 cup)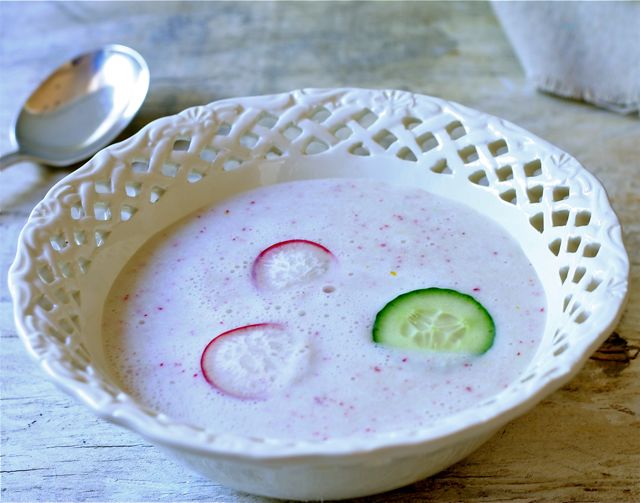 2 cups buttermilk
1 tsp Meyer lemon zest
1 tsp Meyer lemon juice
1 tsp honey
1 pinch kosher salt
1 pinch ground white pepper
Combine all ingredients in a blender. Process until smooth
Chill for several hours before serving.
Garnish with thin slices of radish and cucumber. Serve cold.
Radishes with Creamy Ricotta
Real Simple -
http://www.realsimple.com/food-recipes/browse-all-recipes/radishes-creamy-ricotta
1 cup ricotta
1 Tbs olive oil
1/8 tsp sea salt
1/8 tsp black pepper
16 radishes, trimmed and halved or quartered if desired
Place the ricotta in a small bowl. Drizzle with olive oil and sprinkle with sea salt and pepper. Serve with the radishes.
Spicy Stir-Fried Radish Greens and/or Swiss Chard
Kalyn's Kitchen -
http://www.kalynskitchen.com/2008/06/recipe-for-spicy-stir-fried-radish.html
8-10 oz radish greens and/or swiss chard, washed, dried, and cut/ripped into 1/2" pieces
2-3 tsp peanut oil
2 garlic cloves
1 Tbs soy sauce
1 tsp rice vinegar
1 tsp agave nectar
1/4 tsp Sriracha or hot sauce of choice
Mix together last four ingredients and set aside.
Preheat a wok or large frying pan. Add oil. When hot, add garlic and cook 30 seconds. Remove and discard garlic. Add greens and stir fry until almost all greens are wilted. Add sauce, stir to coat, and cook 30 seconds. Serve hot.
Parmesan-Zucchini Chips
add a pinch -
http://addapinch.com/cooking/parmesan-black-pepper-zucchini-chips-recipe
3 medium fresh zucchini (or yellow squash), sliced into 1/4-inch rounds
cooking spray
3 Tbs grated Parmesan cheese
1 Tbs fresh parsley
freshly cracked black pepper, to taste
pinch of kosher salt
Preheat oven to 425 degrees. Line a rimmed baking sheet with parchment paper. Arrange zucchini/squash on parchment paper and spray lightly with cooking spray. Mix together Parmesan, parsley, black pepper, and salt. Sprinkle zucchini with Parmesan mixture. Bake until cheese has melted and zucchini slices have become crisp but not burned, about 30 minutes. Remove from oven and serve.
M Cafe's Chickpea & Dandelion Salad
1/2 cup extra virgin olive oil
1/4 cup + 2 T fresh lemon juice
1 clove fresh garlic, minced
1/2 teaspoon ground cumin
Pinch of freshly ground black pepper
Combine the tahini, extra virgin olive oil, lemon juice, garlic, cumin, cayenne pepper, sea salt and black pepper in the mixing bowl. Adjust dressing with additional sea salt, black pepper or lemon juice, to taste.
1 yellow onion, cut into paper-thin half moons
Heat the olive oil in a frying pan, and add the yellow onions. Fry the onions over medium heat until golden brown and "frizzled." Transfer to absorbent toweling to drain excess oil. Season with sea salt and reserve.
2 15-ounce cans organic chickpeas, drained
1 cup red Bhutanese rice (or short grain brown rice), cooked
2 cups celery hearts and inside leaves, sliced thin
3 cups fresh dandelion greens, washed, dried and chopped
Pinch of freshly ground black pepper
Combine the chickpeas, cooked rice, celery hearts and dandelion greens in a mixing bowl. Add 2 to 3 tablespoons of frizzled onions to bowl. Moisten salad with about 1/2 of a cup of the Tahini-Lemon Dressing and mix well to combine. Taste salad, and adjust with additional dressing, sea salt and black pepper as needed. Transfer salad to serving bowl or platter and drizzle additional dressing, if desired. Top with additional frizzled onions to garnish. Serves 8.
Baked Pasta with Broccoli Rabe and Sausage
Smitten Kitchen -
http://smittenkitchen.com/blog/2013/09/baked-pasta-with-broccoli-rabe-and-sausage
Pasta and assembly
1 pound chunky pasta of your choice
1 bundle broccoli rabe, stems and leaves cut into 1-inch segments
1 pound Italian sausage (sweet or spicy pork or chicken), casings removed
2/3 cup grated parmesan or pecorino romano cheese
6 ounces mozzarella, cut into small cubes
Bechamel
2 cups milk, full fat is ideal
4 tablespoons unsalted butter
1/4 cup all-purpose flour
1/2 teaspoon table salt
Freshly ground black pepper
2 cloves garlic, minced
Few gratings fresh nutmeg
Cook the pasta and rabe: Bring a large pot of well-salted water to a boil. Add pasta and five minutes before its cooking time is up, add the broccoli rabe. It will seem like too much for the water, but with a stir or two, the rabe should wilt and cook alongside the pasta. Drain the broccoli rabe and pasta together and place in a large bowl.
Cook your sausage: Meanwhile, heat 1 to 2 tablespoons olive oil in a large, wide saucepan (you will use this for the bechamel in a few minutes; you could also use your pasta pot, once it is drained) over medium heat. When hot, add the sausage, breaking it up with a wooden spoon until it starts to brown, about five minutes. Remove with slotted spoon or spatula, leaving any fat behind. Eyeball the drippings (pork sausage will leave some; chicken usually does not) — use one tablespoon less butter next if it looks like there's a tablespoon there. Any less, don't worry about adjusting the butter.
Heat oven to 400 degrees.
Make the bechamel: Melt your butter in same saucepan over medium heat. Once melted, add your flour and stir it into the butter until smooth. Cook the mixture together for a minute, stirring constantly. Pour in a small drizzle of your milk, whisking constantly into the butter-flour mixture until smooth. Continue to drizzle a very small amount at a time, whisking constantly. Once you've added a little over half of your milk, you'll find that you have more of a thick sauce or batter, and you can start adding the milk in larger splashes, being sure to keep mixing. Once all of the milk is added, add the salt, garlic, nutmeg, and few grinds of black pepper, and bring the mixture to a lower simmer and cook it, stirring frequently, for 10 minutes. Taste and adjust seasonings if needed.
Assemble and bake: Add the sausage and bechamel to the bowl with the pasta and broccoli rabe. Stir in mozzarella and half of grated parmesan or pecorino until combined. Pour into a lasagna pan, deep 9×13-inch baking dish or 3-quart casserole dish and coat with remaining parmesan or pecorino. Bake for 20 to 30 minutes, until the edges and craggy points are nicely bronzed.
Eat warm. Reheat as needed.